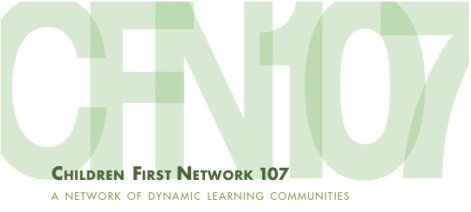 Welcome to CFN 107:
The Network of Dynamic Learning Communities


The creation of Children First Networks (CFN) in New York City was an initiative designed to integrate operational and instructional support for schools. The goal was to expand the Empowerment Schools' philosophy of devolving as much decision-making power as possible to the people who know schools best: principals, teachers, and school staff.
CFN 107 is unique from other networks. As an Empowerment School network founded in 2006, we were asked to pilot Children First Network in the summer of 2009 along with nine other networks citywide. We believe that by supporting our schools in a synergistic way, we can best leverage school improvement, as measured by improved student learning for all, and continue to create dynamic learning communities that motivate individual students. We pride ourselves on being pioneers in the Department of Education; please visit our
Network Initiatives
page for more information.
CFN 107 employs a small, cross-functional team who are directly accountable to principals. We are dedicated to delivering personalized service to schools. Within the CFN structure, our network is able to streamline operations and build capacity within schools so school-based staff can focus their time on instruction and accelerate student achievement.
Our Areas of Expertise


Legal Issues

Human resources
Impartial hearings
Suspension hearings



Data Systems

ARIS and ARIS Parent Link
ATS
BEDS Survey
BESIS
Health Compliance
Military Opt-Out
NYSTART/State Report Card
Promotions and Data Entry
STARS/HSST (programming, scheduling, transcripts, grades)



Finance/Operations

Budget
Lunch forms
Procurement
Transportation
Teacher licensing and certification



Teacher Development

APP (Aspiring Principals Program) applications
Classroom management/Ramapo coaching
Dean support
ELL instruction
Guidance support
Instruction
Instructional Rounds visits
LEAP applications
Mentoring/Mentor Tracking System
New school development process & application
Observations
Principal Pool process
Professional development
Professional Learning Communities
Teacher teams
Tenure decisions
Curriculum development
Curriculum alignment
Common Core State Standards(CCSS)



Student Support

AIDP attendance improvement
Attendance monitoring
Intervention Work: RTI and Youth Development
Child abuse prevention
Crisis intervention
Drop-out prevention
Inquiry teams
Instructional Rounds visits
Special Education reform
Planning Interviews
RSA (Related Service Agreement)
Service learning
Student achievement
Students in temporary housing
Suspensions


Principal Documents/Plans

CEP (Comprehensive Educational Plan)
Consolidated Plan (Youth Development)
LAP (Language Allocation Policy)
PPR (Principal Performance Review)
Safety Plans



Academic Accountability

Instructional Content

Common Core State Standards
Consortium schools
DYO assessment
Instructional Rounds visits
iZone/iLearnNYC
NY State Alternative Assessment
Periodic assessments
PPT improvement


AYP (Annual Yearly Progress)
Data Analysis
Progress Report
Quality Review
State exams