Professional Development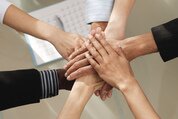 CFN 107 offers many professional development opportunities for our teachers and administrators.
For the 2011-2012 school year, our instructional team is working with PODS of five schools to develop interactive curriculum map that are aligned
to the Common Core Learning Standards. Our teachers also participate in a technology study group and our principals' attend monthly
principals' meetings
that are aligned to work we do with teachers.
Here are some of professional development sessions we have offered during the 2010-2011 school year:
Unpacking and understanding the Common Core State Standards
Aligning curriculum to the Common Core State Standards
Monthly principals' meetings focused on Richard DuFour's three "Big Ideas" that drive professional learning communities
Assistant principal meetings focused on addressing specific needs of APs
Student services meeting

Special Education forums

Guidance counselor forums

Response-to-Intervention workshops
Peer and Quality Review readiness workshop
---
Election Day Professional Development Registration

We are pleased to offer some excellent PD workshops on Election Day!
Download our catalog of workshops
and then register for your PDs at:
https://docs.google.com/forms/d/1_IEvOcGd9PbdFjmptljNCzf85FG108iFLVoRn5jGsVI/viewform
This year, we will be holding our Election Day PDs at Chelsea High School. Chelsea HS is located in SoHo, at 131 6th Avenue between Broome Street and Dominic Street.
Please contact if you have any questions.