Instruction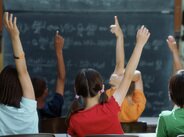 CFN 107's Instructional Team assists schools by building genuine relationships and having a presence in our schools. We observe classes, attend meetings, provide various Professional Development opportunities, provided resources, and build teacher "toolkits."
We strive to be trustworthy and dependable by guiding our schools' work—not owning it. We aim to build capacity at all instructional levels. We act as a thought partners to the entire school community and strive to understand it as a dynamic learning community. We also act as third- party outsiders/insiders who can offer new point of views as well as help schools craft and implement action plans for continuous improvement and change.
CFN 107's Goals for the 2014-15 School Year:
Please visit our other instructional pages for more specific information regarding assessment, the Common Core State Standards, English Language Learners, academic intervention, our Instructional Rounds study group, professional development opportunities, and special education.
---