Wilson Language Training Interventions
Wilson Language Training has three programs for reading intervention:

TIER ONE:
Prevention and Early Intervention (Grades PK-3):
Wilson Fundations

TIER TWO:
Intervention (Grades 4-12):
Wilson Just Words Program

TIER THREE:
Intensive (Grades 2-12):
Wilson Reading System

Read more about the overview of Wilson's Multi-Tiered System of Support:

Improving Word-Level Skills
Just Words is a highly explicit, multisensory decoding and spelling program for students in grades 4–12 and adults who have mild to moderate gaps in their decoding and spelling proficiency but do not require intensive intervention.
The Just Words curriculum provides a sophisticated study of word structure appropriate for students beyond the elementary grades. It provides direct and explicit teaching of "how English works" for both decoding and spelling automaticity.
Just Words Implementation
Just Words is designed to be implemented as a 5 day per week class in a year-long curriculum.
5 classes per week
45 minutes per class
14 units (each will take an average of 2 weeks) plus 2 bonus weeks = total of 30 weeks
The curriculum can also be presented as a three-day per week class but will then be completed over 1 ½ years.
Just Words can be delivered in classes of up to 15 students.
The Just Words and the Wilson Reading System provide a multi-tiered system of support for students in grades 4-12. Just Words provides targeted intervention for students with word-level deficits in the 15th-50th percentile, and WRS provides a more intensive and comprehensive intervention.
---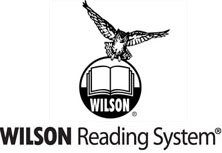 Closing the Gap for Struggling Readers

The Wilson Reading System is a reading program designed for students in grades 2 through adulthood who have difficulty with decoding (reading) and encoding (spelling). It is a complete curriculum that has 12 steps, beginning with phoneme segmentation. Its main goal is to teach students language and word structure through a carefully planned program. The program was developed by Barbara A. Wilson, based on knowledge gained from working with adults with dyslexia using Orton-Gillingham methodology at Massachusetts General Hospital's Language Disorders Unit, and with students in an after-school reading clinic founded with her husband, Ed Wilson. The Wilson Reading System, published in 1989, is now commonly used in various settings throughout the United States and several other countries.

WRS Implementation

Adults and students in grades 2-12 needing intensive intervention should be considered for a Wilson Reading System class with (or under the direct guidance of) a WRS certified instructor.

Instruction is delivered 3-5 times per week for 60-90 minutes in 1:1 or a small group (up to 6 students).

Depending on the frequency and intensity of delivery, it can take up to 2-3 years to complete the entire 12-step curriculum.

---